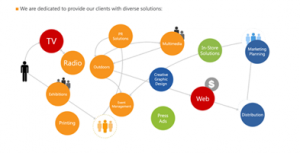 You are working for your own business and trying hard to boost the sales and generate revenue. On the other hand, you want more customers coming to your business. Well, the first thing you should know is that you need to provide efficient services to your existing clients and then focus on new ones rolling in.  Here, advertising agency can do wonders for your business.
The main job is to develop a proper business plan for your business for the future and develop a unique strategy. After the development, the story will be sent out to the audience. The ad agency will be focusing more on bringing new customers and clients to your business while your old ones are going to stick around due to your previous work, quality service and outstanding product line. Marketing and advertising concepts have changed over all due to internet availability across the world.  The online world stays updated more frequently about latest happenings. Since there is a lot of competition going on, there are completely new strategies of online advertising.  All companies cannot afford having an in house marketing person for their firm. For this, they make sure that their marketing is done through an ad agency.  You can stay focused on your business and let your ad agency deal with marketing strategies.
Ad agency will decide certain aspects of marketing like website, social media accounts or direct mail campaign would serve better for marketing. They might consider newspaper advertisements or radio or TV spots for advertisement. They will send you a proper proposal about what sort of services. Marketing and branding strategies along with sale promotion technique are going to be their major concerns while handling clients.